History
Although the Horace A Kimball and S. Ella Kimball Foundation was not legally established until July 20th, 1956, its roots along with those of its sister organization, the Phyllis Kimball Johnstone and H. Earle Kimball foundation, go back to the early 1900s. It was then that Horace A. Kimball of Providence, Rhode Island, a retired woolen manufacturer, acquired controlling interest of the Clicquot Club Beverage Company of Millis, Massachusetts, primarily for the benefit of his son, Horace Earle, and daughter, Phyllis.
At the time, like so many industrialized companies in the Northeast, Clicquot was foundering in the panic of 1893 and 1894.

Internationally famous Clicquot Club Ginger Ale evolved from of all things, sparkling or carbonated cider, which was produced on a Millis Farm by one Charles LaCroix and Henry Millis, son of Lansing Millis for whom the town was named. Sparkling cider was the product which started the Clicquot story. LaCroix had worked out a way to carbonate cider and bottled it for his own and his friends' enjoyment. Because it was so like champagne, Henry Millis suggested that he name it Clicquot Club, borrowing the term from the famous family whose historic product is still bottled in the chateau country of France.

With Millis' help, LaCroix acquired some bottling equipment, purchasing a foot power filling machine, the first device of its kind to come into New England.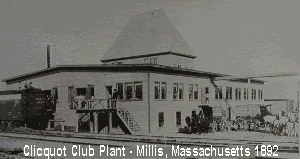 Ginger Ale Replaces Cider
LaCroix began operations in 1881. When the cider had been sold, the equipment stood idle. Millis sent LaCroix to see the A.D. Puffer Company of Boston who supplied machinery and extract for soft drink bottlers. Puffer showed LaCroix how to make ginger ale, birch beer, sarsaparilla and other popular soft drinks of the day. Thus, to keep the sparkling cider bottling equipment busy 12 months a year, Clicquot Club Ginger Ale was born.

Millis had financed the building of a small plant located near a spring-fed source of water of remarkable purity and flavor - and so the famous Clicquot spring began to furnish water in great abundance. This pure natural water source was destined to play an important part in developing the quality and flavor of Clicquot Club beverages in the years to come.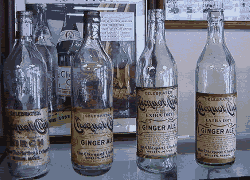 Within a few years the manufacture of sparkling cider was dropped. Ginger ale and other flavors grew in popularity to the point where concentrating on them became the obvious road to success.

It would be nice to report that Clicquot's early progress was made over a smooth and royal road, but the facts are quite different. In the 1880s it was a small, comfortable business, growing each year in a leisurely sort of way. Equipment was crude. Footpower machinery produced one bottle at a time. Bottles were washed by soaking in tubs of caustic solution and carefully rinsed by hand, a bottle at a time. One footpower filler could produce 100 to 125 cases a day. Around 1899 the plant began putting up 16-ounce full pint bottles and started to sell to the wholesale grocery trade. Brownell & Field Company of Providence, an old established firm gave Clicquot its first "big" order. It was for 50 cases. Clicquot's bottles were quite fancy. They carried a label and "necktie", and the necks were foil-wrapped. Each bottle was also individually wrapped in special red, white and blue paper held in place by a sticker which explained how to lift the crown, a new device, from the bottle top.

H. Earle Kimball Comes to Millis

In the panic of 1893-94, Henry Millis and LaCroix suffered considerable financial loss, which was typical of many business ventures in the industrial Northeast. Conditions were extremely bad. At one time there was only one employee. He would bottle the product one day and sell it the next. After some difficult years during which the business was variously owned, the controlling interest was acquired by Horace A. Kimball, who sent his son H. Earle Kimball to Millis to manage the affairs of the company.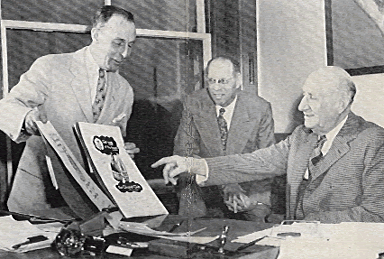 H. Earle Kimball okays an advertising layout presented to him by Advertising Director, Frank Weston as Vice President and General Sales Manager, A.T. Barnard smiles approval.
The real success of Clicquot Club dates from the day young Kimball came to Millis. He had played football and baseball at Brown University, and he brought to Millis the ideals of fair play, American Sportsmanship and personal integrity he had learned on the playing fields of his Alma Mater. His father gave him only one piece of advice; to modernize the plant and to advertise the product, but only after he had earned the money with which to progress in both directions.

After Kimball came to Millis, the sale of Clicquot Club Ginger Ale began to broaden. The company's policy in those early days was to sell its product through wholesale grocers like S.S. Pierce Company of Boston and C.A. Cross & Company of Fitchburg. From New England the business spread toward New York, New Jersey, through the Middle Atlantic states and on toward the Pacific Coast. Wholesale grocers bought by the carload, and Clicquot's own sales staff was supplemented by manufacturers' agents located in principal cities.

By 1907 Clicquot Club was ready to begin national advertising. In that year the company spent $7,000 to tell magazine readers about their product. It was the first investment in a great merchandising force which never stopped for half a century. In that year Clicquot Club became a nationally advertised product.

No Compromise with Quality

When World War I came along, Clicquot Club was at a height of national popularity. With the advent of the United States into the European fracas, came a serious shortage of sugar and other ingredients. Clicquot's dilemma was either to alter the quality of its product or to restrict its manufacture. There was no hesitation. The formula was never changed. Only as much Clicquot Club Ginger Ale was made as the sugar supply permitted. There was no compromise with quality in the 1916-1918 period, and this same experience was destined to be repeated in World War II when conditions were virtually the same.
Nearly all the popular magazines of the day were used by Clicquot Club in its early advertising. Many of them have long since suspended publication, such as the Saturday Evening Post. After World War I Clicquot began to use daily newspapers and outdoor billboards, continuing this policy until 1926 when radio, then a new advertising medium, offered its own particular facilities to advertising.

Clicquot Club became one of America's pioneer radio advertisers, creating the Clicquot Club Eskimos, a bright dance orchestra under the direction of Harry Reser which remained on the NBC network week after week from 1926 through 1934. At one time the program was especially cited by NBC as being the oldest continuous weekly show on the network. From the days of the old crystal sets to the latest type of consoles, the Eskimos were standard weekly entertainment in millions of American homes, and the sale of the product extended throughout the length and breadth of America and far beyond its shores.

Magazine, newspaper and outdoor advertising was continued, although radio, for a time at least, became the leading medium. In 1924, Clicquot Club installed the largest animated electric sign in the world on Broadway at Times Square, a full city block long, 6 stories above the street. The vivid action of the Eskimo boy, the whip cracking and the radiating Aurora Borealis required 21 miles of wiring and 20,000 electric lamps at a cost of $90,000 a year.

During this period full trainloads of Clicquot Club Ginger Ale and other beverages left the 1/3-mile-long siding at Millis for Chicago, Philadelphia and other American centers, to be distributed via wholesale grocers to the retailers of the land, and to California via pan-isthmian steamers. Heavy shipments went to the Pacific Coast and to the Orient.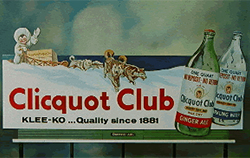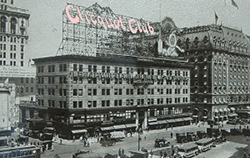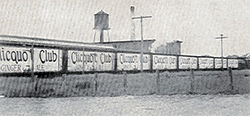 Full Quarts Introduced

During the mid-thirties there came a demand for larger bottles. In 1934 when this became evident, Clicquot Club bottled its product in full quarts and introduced its new package with a "high hat" parade in Boston... a huge procession of Clicquot Club trucks, each driven by a man in formal afternoon clothes.

But the period of long-haul shipments was drawing to a close. Higher freight rates and other transportation problems were soon to make their influence felt on Clicquot's policy. The time had come for Clicquot Club to be manufactured nearer to its consumer markets if the policy of giving the public a quality product at the lowest possible price was to continue. Thus it was decided in 1938 to offer the Clicquot Club franchise to selected local bottlers who could meet Clicquot's high standards of quality. Bottling techniques had improved. Water rectifying and purifying methods had been perfected, and for the first time it seemed possible to manufacture a product of uniform excellence in hundreds of Clicquot Club franchise plants throughout the country. Because of its famed quality, its well known name and trade-mark, and the great power of its national advertising, Clicquot's offer attracted leading bottlers from coast to coast.

The success of the company continued for a time, but problems lay ahead. Kimball was getting older and the drive from his home in Providence to Millis became more taxing. Other companies were making their mark. The competition from the likes of Cott and Canada Dry was felt, and the American public had a big thirst for cola drinks. Coca Cola and Pepsi Cola, along with root beer and Moxie, cut the demand for ginger ale and the other flavors that Clicquot was producing, although Clicquot remained the favorite ginger ale.



Clicquot Plant in Millis, Massachusetts at it looked in 1930.
Kimball Looks for Assistance

In 1952 H. Earle Kimball and his sister Phyllis Kimball Johnstone owned 51% and 49% of Clicquot stock, respectively. Both were married but neither Clicquot owners had children. Kimball wanted to continue the business of the company but with the pressures mounting, he sought help. He turned to his lawyer, friend, and fellow Brown graduate, Thomas F. Black, Jr., then of the firm of Greenough, Lyman & Cross in Providence. He wanted to retire and have Black run the company.

Black agreed but by then he was also President of the Providence Institute for Savings (the Old Stone Bank). Black also admitted he knew little about the bottling business and suggested the inclusion of Adolph F. Haffenreffer, chairman and treasurer of Enterprise Brewery of Fall River, manufacturers of Boh or Bohemian Beer. Kimball instructed his lawyer to do his bidding but brought up another matter. what to do with the company after his death? Black suggested to Kimball, the creation of several private charitable foundations; one in the name of his parents, Horace A. and Sarah Ella Kimball, the other in his name, and that of his sister, Phyllis Kimball (Johnstone). Her husband, Chester A. Johnstone, was a retired vice president of Clicquot Club.

It is important to note here partial instructions given to the trustees by Kimball in regards to his desires concerning the foundation which was to bear his parents name: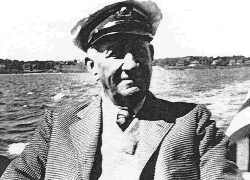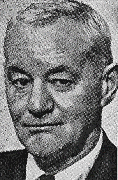 "In my will I have provided that the residue of my estate, a substantial portion of which I expect will consist of the stock of Clicquot Club Company....will go to The Foundation, described therein. Accordingly, The Foundation will become the owner of the stock of this company...

I have purposely not incorporated the foregoing directions in my will because (1) I do not want the operations of the Clicquot Club Company restricted so that its future as a successful business operation would be endangered, as that would not help to further the aid to charitable organizations, and (2) I do not wish to embarrass the operations of the company by encouraging some to assert claims which might not be true or just.

I call attention to the fact that in making my own personal contributions to charity during my lifetime I have given to many different institutions and charitable purposes and causes, but it is not my wish that distributions made by The Foundation shall necessarily follow the pattern of my own giving because I realize that with changing times different needs of the community assume different importance. I would like the directors or trustees to continue the Clicquot Club Company business for as long as my directors or trustees deem such operation to be consistent with good business practice and no longer.

I request without limiting my directors or trustees that in making distribution of the principal and income of the Foundation, preference be given to inhabitants of the State of Rhode Island, and charitable, religious or educational institutions or associations serving the inhabitants of Rhode Island."

August 5, 1952, H. Earle Kimball


Black became president of Clicquot and piloted the company for several years after the death of Kimball in the mid 1950s. During this period, a serious threat emerged from the offices of La Maison Veuve Clicquot-Ponsardin, the most celebrated vintner of France. Lansing Millis had called his ginger ale Clicquot, because it reminded him of the famous French wine. In the late fifties, officials of Veuve Clicquot threatened court action if the American soft drink manufacturer didn't cease using the name Clicquot. Black traveled to France and a meeting was held at which it was agreed that the Millis based company would drop the name at an agreed future date.
(From The Boston Herald, Business Section, February 1956.)

Clicquot Club Introduces "Lotta Sparkle"
The Clicquot Club Company, Millis, Mass., manufacturer of ginger ale, sparkling water and other soft drinks, plans a stepped up advertising and merchandising program based on market by market promotions. The company will mark its seventy-fifth anniversary in business next year.

The campaign will use the firm's Eskimo boy trade character, one of the most famous in the history of advertising, and will introduce a companion character in the form of a blonde girl, also in Eskimo costume, to be known as "Lotta Sparkle."

The Lotta Sparkle personality will appear in newspaper advertising and on television commercials as being present "in every glass of Clicquot."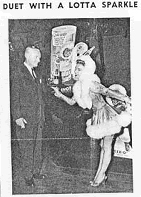 Miss "Lotta Sparkle," Clicquot Club's new trademark character, meets Thomas F. Black, Jr., Clicquot Club president, at a party which marked the start of a stepped-up advertising campaign for the company.
Company Sold to Cott

Declining sales, increased competition and the thought of losing their long held name, probably had a lot to do with the company being sold to Cott Beverage of Connecticut in 1960.

There are many descendants of hard working and dedicated employees of the Clicquot Club Company who, even to this day, are unhappy with the way things ended. After all, Clicquot was Millis and Millis was Clicquot - their feelings are understandable.

The company operated for a number of years under the direction of John Cott who continued to bottle Clicquot until the name change agreement went into effect. Cott Beverage was later sold to Canada Dry and the plant closed. The old plant building is now used by chain store retailers mostly for storage.

On the smoke stack the name Clicquot is faded by the elements but still proudly visible, a stark reminder of a great past. Presently, directly across the road from the plant is a popular and successful restaurant named the Clicquot Grille where sons and daughters of past employees dine and view the remnants of the famous Eskimo, "Lotta Sparkle" and the best ginger ale ever made.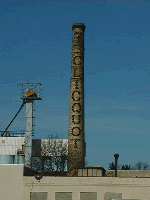 The Foundations
Attention was turned to the operation of the two foundations by trustees, Black and Haffenreffer, who elected a third, Philip A. Feiner, a Providence businessman and former secretary and director of Clicquot.
Schedule of First Contributions Made By The Horace A. Kimball And S. Ella Kimball Foundation - Dec. 31, 1957
Date Made
Donee
Amount

12/28/56

United Fund, Inc., Providence, RI
Rhode Island Hospital, Providence, RI
Brown University, Providence, RI
Providence College, Providence, RI
Roger Williams General Hospital, Providence, RI
Providence Lying-In Hospital, Providence, RI
$2,000.00
$1,500.00
$1,500.00
$1,500.00
$1,500.00
$1,500.00

11/1/57

Providence College, Providence, RI
Brown University, Providence, RI
Rhode Island Hospital, Providence, RI
United Fund, Inc., Providence, RI
$1,500.00
$1,500.00
$5,000.00
$2,000.00

11/22/57

Roman Catholic Bishop of Fall River, a Corporation Sole, Fall River, Mass.

$1,000.00
Summary of Operations of Horace A. Kimball and S. Ella Kimball Foundation Through December 31, 1957
The Horace A. Kimball and S. Ella Kimball Foundation was established on July 20, 1956, in order to carry out the will dated August 5, 1952, of the late H. Earle Kimball of the City and County of Providence and State of Rhode Island. A true copy of this will is attached to this statement.

On December 17, 1956, the Foundation received the sum of $50,000 from the trustees of the trust established pursuant to Article Fifth of the will of the late H. Earle Kimball. On December 20, 1956. The Foundation received 150 shares of stock of Clicquot Club Company, a Massachusetts corporation, as a gift from the sister of the late H. Earle Kimball. In addition, it received income from interest during the period ending December 31, 1957, amounting to $488.37. Also, during this period it incurred expenses of $119.54 and made charitable contributions amounting to $20,500. As of December 31, 1957, the Foundation had a balance on hand of $29,868.33, of which $135 was in cash and the remainder in United States Treasury Bills, plus the above referred to 150 shares of common stock of Clicquot Club Company. The Foundation keeps its books and accounts on a cash basis. Attached hereto is a true copy of the financial statements of the Foundation for the period through December 31, 1957.

Thomas F. Black, Jr., President
Horace A. Kimball and S. Ella Kimball Foundation
On January 12, 1961, Philip A. Feiner fell dead from a heart attack on Weybosset Street in downtown Providence in the late afternoon. He had asked that should he predecease his brother Arthur, that he (Arthur) be appointed in his place. Arthur H. Feiner, a Providence lawyer, then came aboard. That following May, Adolph F.Haffenreffer died, leaving Black and Feiner to run the two foundations. Shortly thereafter, Gordon Feiner and Thomas F. Black, III, were elected trustees. The two foundations really functioned as one with Arthur H. Feiner, President of the Johnstone Foundation and the elder Black, President of the Kimball Foundation. This system worked for about eight years, with gifts made to a variety of causes.

In the mid-seventies it was decided that separation of the foundations was feasible. It was decided that Arthur and Gordon Feiner would run the Johnstone Foundation and Black and his son the Kimball Foundation. Arthur Feiner and his son appointed a third trustee, as called for in the bylaws.

It should be noted here that during the past twenty years, both Arthur Feiner and his son Gordon have passed away, and little has been heard of the Johnstone Foundation. However, it is believed that The Johnstone Foundation may still be in operation and that any funds left in the foundation may have been merged with another group. It is known that Gordon Feiner let things slip before he passed away in the late 80s, and that the IRS was looking into the matter some years ago.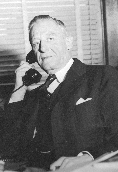 Clicquot Club Director, Officer and Foundation Trustee, Adolph F. Haffenreffer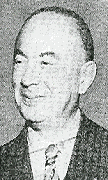 Former Kimball Trustee and Clicquot Officer, Philip A. Feiner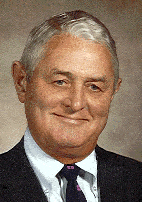 A New Beginning for the Kimball Foundation

With the separation of the two Clicquot foundations, it was also necessary to appoint a third trustee for the Kimball organization. Black and his son chose T. Dexter Clarke, an East Greenwich, Rhode Island lawyer and past President of Narragansett Electric Co., a division of the New England Electric System or NEES. During this period from the mid-seventies to the present, a number of new ventures were undertaken. A University of Rhode Island professor was hired to study a health care agency in Hope Valley, RI, resulting in major changes. Kimball was the first private foundation in Rhode Island to financially assist volunteer fire and rescue operations in the rural towns of South County. Animal shelters, long ignored by foundations and even by municipalities were now funded. Small operations, soup kitchens, meals on wheels and shelters for battered women now received help. Prior to the 1980s, most private foundations limited their gifts to large capital campaigns conducted by hospitals, libraries, universities and environmental causes.

In August 1982,Thomas F. Black, Jr. passed away at age 84. As an aside, after Mr. Black's death, Dexter Clarke proposed a scholarship fund in Black's name to be administered by the Rhode Island Bar Association. The association makes several annual awards to deserving law students. The fund is composed of monies from the Kimball Foundation, the Providence Journal Company (of which Mr. Black was an officer and director) and the Champlin Foundations.


The son of Thomas F. Black, Jr., Thomas F. Black, III, was elected president of the foundation by the remaining trustees. A new trustee, Norman D. Baker, Jr., a Saunderstown (RI) insurance company investment manager was selected to replace Thomas Black, Jr.. Dexter Clarke remained secretary and treasurer. Things went along smoothly for the next nine years, the assets of the foundation doubled to approximately ten million dollars, primarily as a result of Mr. Baker's investment choices and the startling growth of the stock and bond markets. In the late 1980s Dexter Clarke suffered a devastating stroke and was confined to a nursing home for the rest of his days. He remained a trustee and meetings were held at the nursing facility. He died in 1994. The remaining trustees, Black and Baker, then selected F. Thomas Lenihan, a Westerly, RI lawyer to fill the vacant trustee position.

Lenihan served his position with pride, hard work, and an obvious devotion to the foundation principals. He filled the position for the next nine years until his untimely death in October 2003. Tom, along with his wife Mary were active in the Thomas F. Black Jr. annual scholarship fund, administered by the Rhode Island Bar Association. The funds assets grew substantially during the period with the help of the Kimball and Champlin Foundations, and members of the RI Bar Association.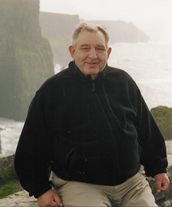 Tom Lenihan
Mr. Lenihan position as trustee was filled by Paul Lynch, President of Wescon Corp. of Pawcatuck, CT and The Granite Theatre in Westerly. Paul was involved in many other local organizations as well, including the board of directors of Westerly-Pawcatuck YMCA, Westerly Savings Bank, and The Westerly Hospital. However in October 2011, fate struck again, as our great friend and co-trustee Paul Lynch was stricken with cancer and died rather suddenly at home.

Paul's death left a terrible void, as Paul was most active with the Black Scholarship Fund, and The Granite Theatre, which had been a recipient of funds from the Kimball Foundation since the purchase some ten years earlier, by Lynch and fellow-trustee Tom Black, who saw an opportunity to buy the foundering theater and bring it back to life. Lynch had put virtually all of his spare time into the theater, and is credited with its restoration and complete success. The restoration of the theater was Paul's biggest accomplishment in life, and only time will tell, wether it's present operation will last and continue to be a credit to the community of Westerly.

After Paul's passing, the remaining trustees Baker and Black, appointed Edward C. Marth of Richmond, a retired labor negotiator with the University of Connecticut, to the vacant position. As of this writing, these three gentlemen are the current trustees of the Kimball Foundation.

Excerpts of this text were taken from the July 1949 issue of the Clicquot Club Trail; author unknown. The rest was composed and written by Thomas F. Black III, Foundation trustee and president.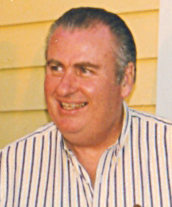 Paul Lynch